"Tricky cove the Fire Door" said Jimmy, with his usual hangdog expression. "Bit of a cock-up on the closing front I'm afraid, tricky blighter sticking on the smoke seals……………………given up on the blasted thing" he added, confirming what Reggie had already taken as read.
The above may sound familiar to anybody that has attempted to install or maintain fire doors? So with the promise of no further references to 1970's sit-coms this article will look at how to ensure that the timber based fire doors at your buildings are correctly installed and maintained.
First, why?
What circumstance has brought you here? Could be one of the following……….
1) You've had a fire risk assessment and one recommendation is to undertake an inspection of the fire doors.
2) You are new to a fire-safety post at premises and see that the fire risk assessment makes mention of fire door requirements as a key part of the fire compartmentation requirements.
3) You are refurbishing or modernising and door replacement works are a necessary part of the works.
4) Something else.
Fire door installation and adjustment can be seen by many as a bit of a faff. So start by referring to the fire strategy at the building to work out exactly where you actually NEED TO HAVE THEM. Quite often doors will have blue circular 'Fire Door Keep Shut' signs even when they don't actually need to be fire doors. This is bad because aside from causing confusion it will add unnecessary expense to building maintenance. A poorly installed or maintained door may not always be a serious problem whereas a poorly installed or maintained fire door is likely to be in breach of the Fire Safety Order.
A door separating an escape staircase will most likely need to be an FD30s or FD60s fire door but a door to a room or cupboard might not need to be a fire door at all. It will depend on the fire risk at that room or cupboard. Clearly buildings where people sleep and/or where safe escape is not straightforward will be more onerous in terms of fire safety and the fire doors will be more critical than say at a secondary school or office premises. Check the requirements of the fire strategy for the building. Only when you have identified which doors need to be fire resisting can you move forwards. So if its not a fire door remove the signs.
Improving safety and saving money.
Once you have identified which doors are fire doors engage the services of a Certificated Fire Door Inspector. Inform them that their brief, as well as to provide expert assistance (as the Competent Person under the Fire Safety Order) to help improve fire safety, is to include advice on how to reduce maintenance costs in the future. A competent inspector will focus on the necessary requirements to improve the fire and smoke separation performance of the doors and how best to maintain that level of performance in future. If as part of their inspection process the inspector discovers damage to the fire doors then they should make recommendations as to how further damage can be reduced and therefore prolong the service life of the doors.
It may be that you are about to carry of refurbishment work. If so it would be wise to engage a certificated fire door inspector to help with the specification process. A competent inspector will have an in depth understanding of the different types of doors and hardware available and how they would meet durability requirements as well as fire and smoke separation requirements. Oftentimes new doors installed during refurb works are unsuitable for the environment and therefore fail to last very long because they lack the necessary durability qualities. This is usually because the builder has made price-based decisions rather than looking at suitability of the products for their intended use. It is clearly a waste of money and can be eliminated by consulting a certificated fire door inspector at the pre-works stage.
Some good news comes due to the fact that timber has excellent natural fire and thermal separation qualities and is therefore an excellent and versatile material from which to make a fire door. Much research work has been undertaken about burn rates and what makes a fire door fail in fire performance tests to the British and European standards. You can reduce the likelihood of fire performance failure by keeping designs simple and effective. For example glass doesn't have the same natural fire and heat resistance qualities as timber. Furthermore, cutting an aperture in a door will weaken the door. Therefore if you are undertaking replacement of flat entrance doors, to say an FD30s rating, do not specify glazed panels unless they are absolutely necessary.
The function of the hinges on a door is often underestimated and it is common to see worn hinges with missing screws still in use even on fire doors in critical locations, such as cross-corridor at hospitals. Remember, in a fire, if the screws fail then the hinges will fail and if the hinges fail then the door will fail. When the door fails then the building fails!
So, simple is good and lifespan of fire doors can be lengthened simply by fitting hinges of a suitable quality and with the correct screw fixings.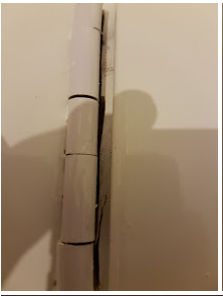 ………………..and if the hinges fail then the door will fail. When the door fails then the building fails!
Another often overlooked aspect is that the performance of the fire door is dependent on how its fixed to the wall and how effective that surrounding wall structure is in terms of fire separation. A competent inspector will inspect the surrounding wall and its junction with the door frame. If the surrounding wall installation is defective or if the fire stopping around the door frame has not been carried out correctly then the door will fail prematurely in a fire.
When a timber fire door fails that failure is usually due to one of the components such as the glazing or an item of hardware, the self-closing device or hinges for example, being fitted incorrectly. Or it may be because the installer has altered the door construction by excessive cutting or planing of the door edges especially at the top edge or vertical edges.
By engaging a certificated fire door inspector to provide consultancy services pre-works and inspection services during and post-works the client can ensure that the fire doors installed are suitable for their intended use, are compliant with regard to the requirements of the Fire Safety Order and importantly that the contractor has performed the installation works to the correct standards.
If a certificated fire door inspector has not been consulted and the contractor has failed to install correctly the installation issues may not be discovered until after final payments have been made. It could be difficult to bring them back for remedial works and by which time the building operator is in breach of fire safety law.
Who can install and maintain a fire door?
Currently in the UK there is no legal requirement for fire door installers and maintainers to hold any particular qualifications. Much has been said in the media about qualifications and certification schemes in recent months but the facts are that any competent carpenter or joiner should be able to install and carry out maintenance to a timber fire door. Assuming the installer is competent, the main factors that can make the difference between compliant and non-compliant are………………………
1) Availability of a suitable specification or instructions.
2) Sufficient time to complete the job correctly.
The findings from the reports of certificated fire door inspectors reveal that one of the main issues is insufficient time being allowed to complete the work correctly. Regarding installation work there are a few key differences between a fire door and non-fire door and to ensure compliance the installer must have sufficient time to complete them. These include:
1) Correct trimming at the edges of the door leaf.
2) Correct installation of the perimeter fire and smoke seals.
3) Correct installation of the self-closing device.
4) Correct installation and sealing at the junction of the door frame and surrounding wall construction.
Information regarding all of the above is available from either the fire door leaf or the individual component manufacturers. On point number four (above) the door leaf manufacturer will often refer to the requirements of 'BS 8214 Code of practice: Timber-based fire door assemblies' so it is important that the installer or maintainer has access to sufficient documentary information in order to carry out the work correctly and to achieve compliance.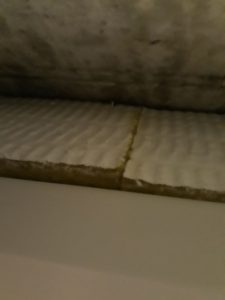 Correct installation and sealing at the junction of the fire door frame and surrounding wall construction is of key importance.
Of course, dedicated training and certification schemes can be of great benefit but the bottom line is that diligence is the key requirement when installing and maintaining any life-safety device, fire doors included.
One of the problems suffered by contractors that are tasked to install and maintain fire doors is lack of knowledge at the suppliers. Builders merchants are usually the 'go to' place for timber fire door leaves, door frames, seals and ironmongery but staff there often lack sufficient knowledge to advise customers correctly about the right components to suit the fire door requirements. Many, will assume that any fire door leaf may be used in a double door configuration or that the self-closing device is suitable to be used on both pull side and push side. This is not the case but still is a common mistake revealed by the inspections of certificated fire door inspectors.
Part Two in next month's blog will include How best to procure the fire door leaf and other essential hardware. We will look the easiest and best ways to obtain suitable doors and components and have them installed correctly to achieve compliance.