In June 2017 the focus turned to fire safety in blocks of flats. In a first-world country, we shouldn't need such a tragedy costing so many lives to make local authorities and housing providers pay attention to basic fire safety measures that should already exist to offer protection to residents in a fire situation.
There will be an inquiry and surely this time around unlike after the Lakanal House fire in 2009 national government will legislate to bring about improvements in fire safety. However, we mustn't unnecessarily delay basic fire safety improvements.
Trade associations and organisations representing passive fire safety product manufacturers and installers have been sounding warnings about the widespread poor standard of protection in large buildings for many years. Yet reports have said that 80 people died from this preventable fire disaster.
The first thing I can do as a certificated Fire Door Inspector is highlight the fire safety-related problems that I encounter on a regular basis. I will do my best here to do that and try to reach the people that matter, those at risk as well as those in a position to take action.
Back to basics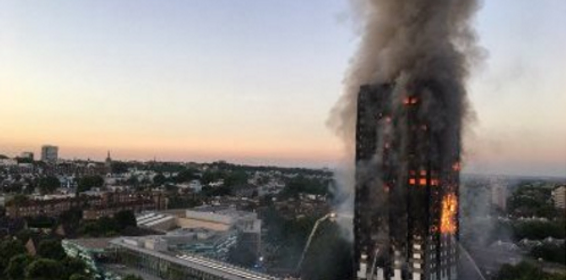 Number one, if a flat entrance door is not completely shut it cannot restrict the spread of fire and smoke. Fire events are more common in blocks of flats than in other buildings simply because so many people live in one building, that's just simple maths. However, each flat is separated by walls, floors and doors so that if a fire occurs it should be contained in the flat for a sufficient time period to allow the fire and rescue services to arrive and deal with the fire.
So, assuming the housing provider has not clad the building with a fire-propagating material or installation method, here's the scenario in the event of a fire:
The kitchen appliance catches fire in the middle of the night.
The Resident gets up, gets dressed and leaves the flat.
Wakes his immediate neighbours, dials 999 and leaves the building.
What happens next? There are two possibilities.
Possibility one is that the flat entrance door is a thirty-minute fire door, and has an effective self-closing device and effective cold-smoke seals. So the resident in our scenario leaves and the door closes behind him containing the fire. The fire service arrives and deals with the fire. Residents of other flats can safely stay put because the intended fire strategy has worked. It's called 'fire separation' or 'fire compartmentation'.
However, the reality is different… possibly one has only a 43% chance! There's a 57% chance that possibility two will be 'what happens next'.
Possibility two is that the flat entrance door will fail to self-close. The door will remain open because its bottom edge will stick on the carpet or rug, or the door mat or the door's latch will fail to engage in the keep causing the door to remain ajar. The cold-smoke seals will fail to restrict the passage of smoke because they haven't been fitted correctly.
Fire and smoke will quickly spread through the common area to reach other flats, the entrance doors of these other flats will fail to restrict the passage of smoke because the cold-smoke seals are ineffective due to incorrect installation. Other residents will be forced to escape via the single staircase which of course by now is filled with thick black smoke.
Lives will be placed at risk. Unnecessarily. Because the fire door didn't work.
Certificated fire door inspectors have found that the vast majority of fire doors have faults due mainly to poor installation and maintenance. A recent fire door inspection of 194 FD30(s) flat entrance doors for a housing association found that 42 doors failed to self-close and 68 doors had smoke seals fitted incorrectly. These statistics are for new doors very recently fitted by the in-house maintenance team. Chances are the man fitting the fire door is fitting it incorrectly. Chances are the housing provider has failed to inspect and correctly maintain the fire doors.
On 26 June 2017 ITV news reported that the Communities and Local Government Secretary
Sajid Javid said 1,000 fire doors were found missing from five Camden tower blocks evacuated over the weekend. So the chances are, the fire doors at the block of flats in which you live won't work.
Fire safety law
The good news is that we can fix this and furthermore that existing fire safety law already places a legal obligation on the building operator to ensure fire safety equipment and devices (such as fire doors) are 'subject to a suitable system of maintenance and are maintained in an efficient state, in efficient working order and in good repair'. Fire safety law in the form of the Regulatory Reform (Fire Safety) Order 2005 has been enforced since 2006 by local fire and rescue authorities. Prosecutions have been brought against landlords resulting in heavy fines and even imprisonment.
Fire safety law requires the Responsible Person (this is the person or organisation having control of the building) to engage competent persons where necessary to assist in undertaking fire safety-related work. There are professionally qualified competent persons that can provide advice and carry out inspections and remedial works so that fire doors can be maintained as fit for purpose.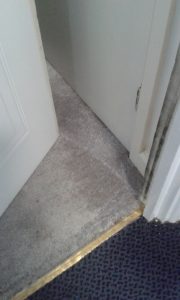 Photographic evidence
The pictures here show typical problems. On the right, the door fails to self-close because it sticks to the carpet. The picture below shows the smoke seal brush fitted to the head of the door frame, but it fails to make contact with the top edge of the door. As a result, it is essentially useless!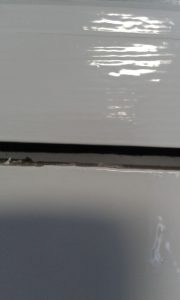 But what can we do?
If you live in a block of flats check that your flat entrance door self-closes under its own steam! If it sticks to the carpet or the door frame. If it fails to overcome resistance from the latch or the seals it needs to be fixed because for one it's in breach of Article 17 of the 2005 Fire Safety Order and for two it's unsafe. If the doormat or rug stops the door from self-closing then move them. Check that the brushes or blades of the perimeter smoke seals are in contact with the opposing surface and that they sweep or compress that surface when the door closes. If they don't, if there are gaps (see pictures) then the spread of cold smoke will not be sufficiently restricted. Check the other fire doors in the common areas too. Report any faults to your landlord, or even better – put them in writing.
If you are a landlord, building owner, or operator make sure you engage competent persons when you install new fire doors or maintain existing ones. Ask the contractor what qualifications he has and to what standards he will work. There are British standards, codes of practice and guidance documents that deal with fire door installation and maintenance. These have been around for many years but most installers have failed to take notice and building control has failed to check fire doors for correct installation.
If you are a building or maintenance contractor make sure your installers and maintainers have the knowledge and skills to install and maintain fire doors. Enroll them for suitable training and allow them sufficient time to correctly perform the required work, fire doors are unlike normal doors and must be installed to the correct tolerances and in accordance with standards and codes of practice. Paying sub-contractors on a price-per-door basis may make good business sense but not at the expense of quality and standard of installation.
What next?
Make no mistake, most fire doors in most buildings are in a poor state. In a fire, they will fail to correctly meet requirements to restrict fire and smoke spread, this is fact and fire door inspectors have the statistics to prove it. There is an urgent need to upgrade existing fire doors and to upskill installers so that new fire doors are installed correctly. Thankfully here in the UK, we don't suffer many fires and it's my guess this is why landlords and building owners/operators, as well as contractors and building control departments, have failed in their duty to ensure life-critical devices like fire doors are fit for purpose.
My sincere hope is that the panel chaired by Sir Ken Knight will carefully investigate passive fire safety in buildings and that as a result effective measures will be taken to bring about the necessary improvements.