Following a government review of fire safety legislation in the early noughties the Regulatory Reform (Fire Safety) Order 2005 became law in England & Wales in October 2006. The major change in the legislation was that it brought in the concept of risk assessment rather than prescriptive codes. The Fire Safety Order lays out the foundation of the fire risk assessment by saying that the Responsible Person (employer, landlord, person or organisation in control of the building, or the owner) must take into account the safety of their employees and anyone else who may lawfully be on or near their premises.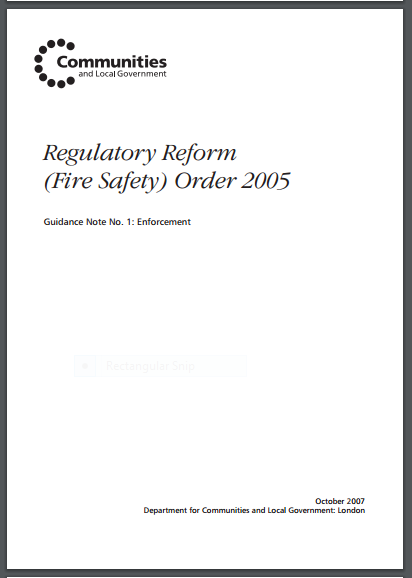 The change in the legislation brought in the concept of risk assessment rather than prescriptive codes.
Fought the Law… and the Law won!
In so doing the Responsible Person has a legal duty to make sure that the fire safety devices such as fire doors and escape doors (including all relevant door hardware) are subject to a suitable maintenance regime and are kept in an efficient state. Failure to do so may result in the Responsible Person being prosecuted. Resultant fines have been very heavy indeed with New Look, for example, being fined £400,000 after a fire at its Oxford Street premises and a jail sentence was imposed on Haresh Rambhai Patel, a private landlord in Leicester, after ignoring fire safety regulations and putting his tenants at risk.
The other key 'person' referred to by fire safety law is the Competent Person. Article 18 of the Regulatory Reform (Fire Safety) Order 2005 places an obligation on the Responsible Person to appoint a Competent Person to assist them, as necessary, in complying with the requirements of fire safety regulations. In the case of fire doors and escape doors, the Competent Person could be the advisor, specifier, installer, maintainer, repairer and inspector. The Competent Person may also answer to the law where his work is found not suitable or sufficient. Indeed Graham Foote of Beverley received a four-month prison sentence suspended for twelve months for providing a 'woefully inadequate' fire risk assessment in his capacity as a private consultant. He also had to pay costs of £ 1600.
Fire doors and escape doors are essential fire safety devices and where the authorities find non-compliance, prosecutions are commonplace. Any person or organisation advising on or working on fire doors and fire door maintenance should be able to demonstrate they are competent to do so. We have seen how lack of specialist knowledge and poor standards of installation has left housing providers with costly remedial works to carry out in order to comply with fire safety regulations. Clearly, then, education and fire door training is necessary to help those involved in fire door specification, procurement, assembly and installation understand the fire door regulations and requirements to help ensure fire doors and escape doors installed and maintained in buildings are fit for purpose.
Fire door training for those that work with Fire Doors and Escape Doors in the UK
The Fire safety Order, with its risk assessment based approach, along with the recent Building Safety Act 2022 has put the spotlight on fire safety and how those involved can discharge their duties correctly. This in-turn has led to education and training programmes becoming widely available and a quick internet search for fire door training will bring-up diverse offerings from FDIS, Exova BM TRADA, The FPA, BRE Global, DoorCheck and my own company, Fire Doors Complete. You should do some research to find out which one best suits your needs but to help get you started here's brief outline of each. Other fire door training programmes, related programmes and certification schemes are of course available (its just that they didn't come up during my search).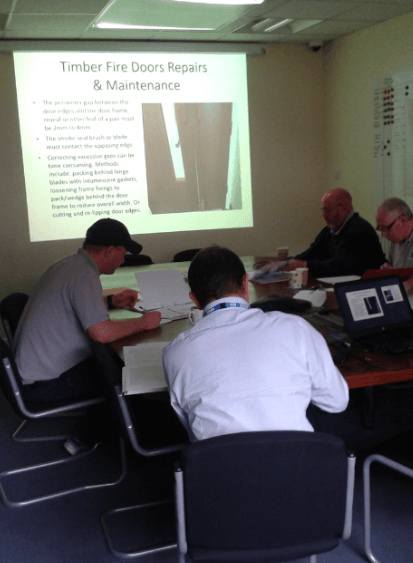 Suitable training for those that install, maintain or inspect fire doors will help improve fire safety in our buildings.
FDIS (the Fire Door Inspection Scheme)
This one is online education to achieve the Diploma in Fire Doors and once that qualification has been attained Diploma holders may apply to study a transition module to train to become a Certificated Fire Door Inspector. Education content is comprehensive and detailed, and delivery is exclusively online so you need to have the self-discipline to get the best from it but if you have the desire to learn you will find it very informative and very useful. Examinations for Diplomas are held at regional test centres and the Certificated Inspector assessment is a practical fire door inspection and questioning session at a site of your choice. Once you become a certificated fire door inspector CertFDI you can be listed in the inspector search.
Exova BM TRADA certification
This training is available as part of Q-Mark certification and there are schemes for installation and for maintenance too. First it is necessary to complete their 'Fire Doors Explained' course and apply for Q-Mark certification and then training includes a classroom based seminar with a written examination. Successful completion is required in order to be awarded the Q-Mark certification. Becoming a third party certificated installer or maintainer means that you can be listed on the fire door installer register and you may find that some clients insist on their work being carried out by third-party certicated installers or maintainers. The 'Fire Doors Explained' course is also available as a standalone.
FPA Fire Protection Association
Their 'Understanding Fire Doors' training programme is delivered at their Moreton in Marsh premises for contractors wishing to 'up-skill' and to improve the knowledge base of those involved in the design, supply, inspection and maintenance of passive fire protection. This one-day fire door training course focuses on the legal requirements relating to fire doors, their installation and maintenance.
BRE Global
Working together BRE and the Door & Hardware Federation offer this comprehensive one-day training course that covers the important issues that must be addressed when conducting fire door inspections. The training is delivered in modular form and covers regulations, testing requirements, evidence of performance, and issues specific to timber doors, steel doors and roller shutters. It is classroom based and delivered at the BRE Academy premises. A certificate is issued dependent on passing the examination at the end of the course and delegates are provided with copies of course materials for future reference.
DoorCheck
Two courses are offered, 'Foundation Competency Training' and 'Advanced Fire Door Inspector Training'. Delivery is at their London premises but also available at your own premises subject to a minimum number of delegates. The Foundation is a one-day course providing an overview and understanding of fire doors and their components, including inspection, certification, regulations and maintenance. On completion, a certificate of competency is issued together with a fire door inspection manual. The advanced course is available to those that have completed the foundation level and enables them to work independently and carry out on-site inspections of installed fire doors in existing or new buildings.
Fire Doors Complete
As well as fire door inspection and consultancy services my company also provides training for those working with fire doors or having responsibility under the Fire Safety Order. Dedicated training delivered at the client's own premises is available in both full-day and half-day courses for installers and maintainers. The courses cover compliant installation, maintenance and repair methods including reference to standards and guidance documents. A certificate of competence is issued subject to passing the examination(s).
We provide dedicated fire door training for the Responsible Person so that they may understand how to discharge their duties correctly and also for salespeople involved in supplying fire doors and their components so that they may improve their service and customer satisfaction levels. We also provide a fire door consultancy service where we tailor the education programme to suit your needs. For example, to help you put in place suitable quality control and traceability systems to help improve the services you provide and meet compliance requirements.
Website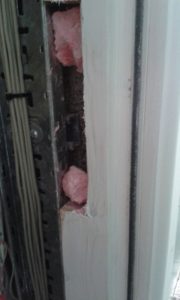 Poor standards of fire door installation are all too common.
To train or not to train
Let's be clear, the HSE describes the Competent Person as 'someone who has sufficient training and experience or knowledge and other qualities that allow them to assist you properly'. I do not interpret that as an absolute requirement to undertake a particular training course or possess a particular qualification but inspections of fire doors (see the earlier Fire Door Monthly blogs) have revealed all sorts of problems and issues. This after all is the reason we provide the training because our clients requested it.
Speaking for myself I have always benefited from the courses I attended and when combined with relevant work experience such training has to be a real benefit in improving how we go about our work and the results we achieve. Learning is never complete and taking on board new lessons and experiences is part of our ongoing development.
Does it have to be true that the more of us that undertake training courses such as those described (very briefly) above then the safer our fire doors will be in the future?
A footnote
Now that the 'evidence' stage of the Grenfell Tower inquiry is over and with the introduction of the Building safety Act, I am sure we will see efforts to up-skill those involved in all types of fire safety at all levels so please look carefully and do your own research on all the fire door related training on offer to find the ones best suited to your needs. I am sure you will agree that in fire safety, integrity comes first and foremost.
We provide quality, fully certified training in how to appropriately install, inspect and maintain fire doors. With both remote and in-person training available, we're committed to providing delegates with the knowledge they need. For further information, access our fire door training courses for installers, inspectors and maintainers, here.