Safety and security are essential for all building owners, landlords, business owners and managers. However, fire safety is sometimes judged as less of a priority.
People are more likely to report a heating issue than a faulty fire door. We at Fire Doors Complete are in full support of Fire Door Safety Week this October 31st–4th Novemeber, as we aim to raise awareness about fire doors and their vital role in saving lives and protecting property from the tragedy of fire.
The importance of fire doors
Approximately 3 million new fire doors are bought and installed annually in the UK. Still, to save lives, fire doors must be installed and maintained correctly to the correct specifications to protect us from the catastrophe fire can cause.
Fire doors must be fitted with the correct and compatible components suited to the door. Like any other fire safety device, fire doors should be installed and maintained by competent people and should never be propped open.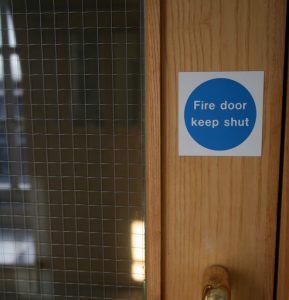 How to check fire doors?
We have designed and created a number of training packages to meet the needs of contractors, fabric engineers, caretakers, maintenance teams, carpenters and joiners, and others that carry out various duties on high-rise buildings.
The new Awareness Training Module provides the information you need to help spot defects and non-compliance issues on fire doors and report them so the necessary repair and maintenance work can be carried out.
Contact us on 07970 201231, or you can enquire using our online form.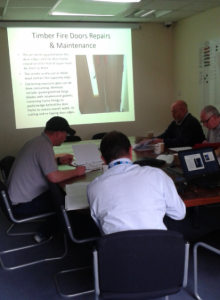 When are fire doors required?
The issues around fire door safety don't just exist in high-rise and high-risk buildings. They are widespread in almost any sector and building type. From care homes to hospitals and from schools to assisted living.
Listed here are some of the types of properties that should have compliant fire doors in place:
Multi occupancy housing
Council and social housing
Offices, shops, and industrial units
Care homes and sheltered housing
Hospitals and health centres
Hotels and guest houses
Public buildings
Schools, colleges, and universities
Student accommodation
Fire Door Safety week October 2022
Fire Door Safety Week is an industry-leading campaign that Fire Doors Complete fully supports. We seek to increase the understanding of the essential role of fire doors in protecting life and property.
Our Fire Door Awareness Training Module is designed for people that are tasked with undertaking fire door safety checks to help save lives and protect property in a fire event.
Contact us on 07970 201231 or use our online form for more information.